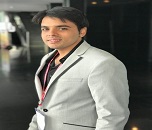 Biography:
He is Assistant Director at The Humanitarian Clinic : Skin, Hair And Laser Centre, Mumbai and Hon. Consultant at Brahma Kumari's Global Hospital & Research Centre, Mumbai. He has done his M.B.B.S from M.G.M Medical College, Navi-Mumbai and M.D. with 1strank, distinction and gold medal from Katihar Medical College, Bihar. His research work was on "Cytodiagnosis of Common Viral Cutaneous Disorders". He has conducted workshops in Dermatosurgery and presented 8 papers and 2 posters on Tzanck Smear, Autologous PRFM in Non Healing Ulcers, CPC in Leprosy and Post-kala Azar Leishmaniasis at various state and national conferences and has received a gold medal for best poster on leprosy. He has 14 publications in indexed journals and is principle and co-author of 6 chapter's in the "Textbook of Dermatosurgery and Cosmetology". His field of of interest are Dermatosurgery, Laser Medicine, Dermatohisthopathology and conducting skin rural OPD.
Abstract:
Hypertrophic Scars(HS) and Keloids are exuberant forms of scar formation due to increased collagen synthesis. Acne Keloidalis nuchae(AKN) is a chronic progressive keloidal scarring process on the nape of the neck. All of them are difficult to manage due to their high recurrence rates and there is no single effective modality or protocol for their treatment. Multiple modalities have to be combined to achieve good results.
In this study, 79 cases of keloid, 24 cases of HS and 17 cases of AKN were treated. HS were treated mainly with intralesional steroids(ILS) with or without Inj.5 flurouracil(5FU). In some cases, this was also combined with LN2 cryosurgery(intralesional or roller) and silastic gel sheeting(SGS) under pressure dressing(PD).Repeat cycle was carried out in 4 of the 24 cases after 6-8 weeks.
Keloids and AKN were treated with combination regimen of surgical(Scalpel excision, autoflap, radiosurgical excision,CO2 laser excision,LN2 Cryo-Spray/Probe/Roller) and ILS/ ILS+ 5FU.This was followed by SGS and PD. Procedures were repeated at intervals so as to achieve complete resolution.
Most of the Patients were followed up for 11/2 -2 years. All the 24 hypertrophic scars flattened out fully. 51 cases(63%) of keloid showed complete regression with flattening. Of the 17 cases of AKN,11 showed complete healing with no recurrrence.
Side effects and complications seen were-1)secondary infection - 5, 2)transient hyperpigmentation which disappeared in 3 months - 63, 3)depigmentation-35, 4)hypopigmentation-20, 5)atrophic scarring -23,6)recurrence-22.
Hence in conclusion, it was found that extensive flat keloids responded better to cryoroller with ILS+5FU; whereas bulky keloids regressed with debulking(intralesional cryo, radiosurgical excision, autoflap) followed by ILS with SGS under PD. AKN disappeared completely on punch excision/radiosurgical excision with ILS.