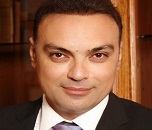 Biography:
Ibrahim El achkar completed his studies from Saint Joseph University of Beirut and Paris University School of Medicine. He invented "EL ACHKAR Bone Injector" which is used in facial plastic surgery and his research is published in the British Journal of Oral and Maxillofacial Surgery and The European Journal of Facial Surgery. He is a member of the French Society of Aesthetic Surgery, the French Society of ENT and head and Neck Surgery, The Lebanese Society of ENT and Head and Neck Surgery, The International Society of Lipolysistherapy, and The International ReCon Surgical.
Abstract:
Natural sculpturing of the nose is the goal of every rhinoplasty surgeon; in this study we expose the indications of Liquid Rhinoplasty.
Between January 2013 and 2016 around 500 Liquid Rhinoplasty .
In this study we discuss the use of fillers in the treatment of the:
Dorsum
Tip
Mid third
Columella
Several other parts of the nose
Secondary Rhinoplasty
Touch up Rhinoplasty
The use of fillers (depending on the indications) in primary and secondary rhinoplasty provides an outcome of a natural nose shape.